Crop factor in photography
Different cameras may have different sensor sizes depending on format, model, and brand. Full frame (FX) cameras come usually with 36mm x 24mm whereas APS-C (or crop cameras) come with 24mm x 18mm (exact dimensions vary by model and brand). This means that a full-frame sensor is approx. 1.5 (Canon usually has a factor of 1.6) larger than an APS-C sensor. There are many aspects to be considered when choosing between full-frame and crop sensors. There are tons of articles out there that discuss the differences between the two such as the one from photographylife.com, the one from photography-raw.com, or any other good source of information. In this article, I only would like to touch on the crop factor in photography.
Using toys for demonstration purposes
I have been using toys for demonstration purposes. I am not making any money with this article nor am I selling those toy pictures. I am not owing to the copyright of these toys. I am just saying that as there have been some lawsuit cases on toy photography.
Image circle
When light is traveling through a lens it will form a circle on the sensor, the so-called image circle. Full frame image circles are larger than APS-C image circles. Having said that – and as per the below images – full-frame image circles will "cover" both full-frame as well as APS-C sensors. However APS-C image circles will not fully cover full-frame sensors. This means that full-frame lenses will work on both, full-frame and APS-C sensor cameras, however, APS-C lenses will not work on full-frame cameras (well technically speaking they will work but they will not cover the entire sensor size).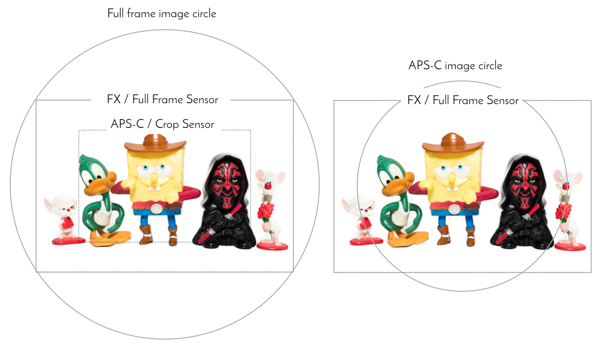 Crop factor
As said, full-frame lenses can be mounted both on full-frame as well as APS-C cameras but they will give different results. The following pictures have both been taken with a 50mm f/1.8 (FX) lens at 50mm, f/16 1/200s, ISO 200. The difference between the following two images is a result of the crop factor due to the different sensor sizes. The picture on the right (taken with an APS-C camera) is a 1.5 crop of the picture on the left. People often misunderstand this as theoretical focal length extensions but it's the crop factor in photography.



Crop factor in wildlife photography
In wildlife photography, many photographers choose APS-C cameras over full-frame ones as they get the subject appearing 1.5 times larger on their images. If they would want to achieve the same with full-frame they would need additional focal length by either mounting teleconverters (to fast lenses supporting those) or investing in prime lenses.
Let me know your thoughts
I hope this article was helpful for you. If there is anything you are looking for, please let me know and I try to find examples to discuss.
Love an protect wildlife
Animals are awesome and need our protection. Don't hurt, kill or eat animals. It's wrong.