fabulous five
Every Monday I am posting five shots from the prior week that I like a lot – the fabulous five. I found some time to do some test shots in my hide. No snow yet but I had a few first visitors. The temperatures are still quite warm but I assume they will be dropping as we speak. Lots of rain on Sunday that made it impossible to do some good shots. As every week, I played with the two knuckleheads Turbo and Peanut – its always difficult to only select two or three pictures of the little creatures as I shoot so many funny photographs – whereas I should focus on birds. Speaking of which, I found a middle spotted woodpecker (while walking with the dogs) and I think where he or she lives. So I will for sure try to get some pictures for next weeks article. Lets for now however focus on this weeks selected fabulous five – I hope you like em. Oh and I almost forgot to mention that I have been "interviewed" by Jill from TheWoolf.org and they have released the article last Saturday.

My first hide visitor this winter
The first picture shows a willow or marsh tit (Parus montanus or Poecile palustris) – it's difficult to tell the difference, as I didnt't see the entire bird but just its head. Tits are fun little birds and very brave. This guy has been the first visitor, even though I had to do some final preparation of the feeding place and all the birds have seen me doing so. This usually makes em a bit spooky for the first hour or so and I had to wait quite a bit until the first birds visited the place.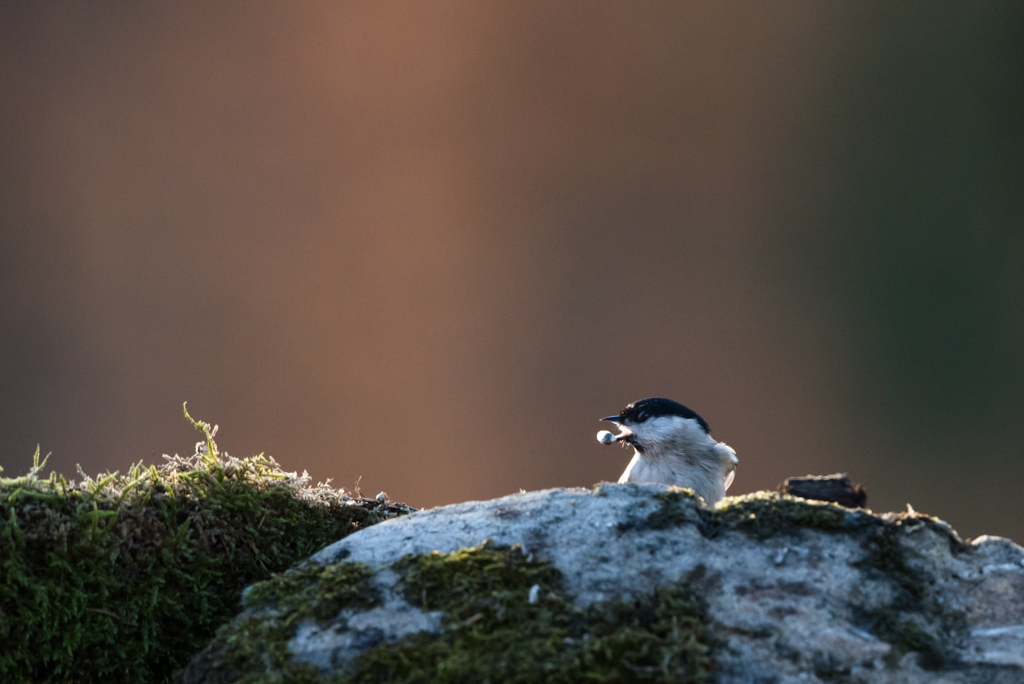 Captain sparrow
The second picture shows two house or tree sparrow (Passer domesticus or Passer montanus). I would think that this guy is a tree sparrow as he has the black spots on both sides of his head as well as the brownish crown (I think house sparrows have a grayish crown). The little swift guy knew exactly that I was there and while eating the sunflower seeds always checked me out – keeping in mind that I was using my hide and additional camouflage. These little birds are pretty intelligent, brave and fun to watch.
Checking the surroundings
Picture numero tres shows another little sparrow and here we easily can tell that this is a tree sparrow (Passer montanus). This little guy always was checking the surroundings very carefully. First I thought because he knew I was there but then I had a feeling that he was scanning the area for other birds like green finches or blackbirds as I many times already have seen like the little sparrows are being bullied away by these birds.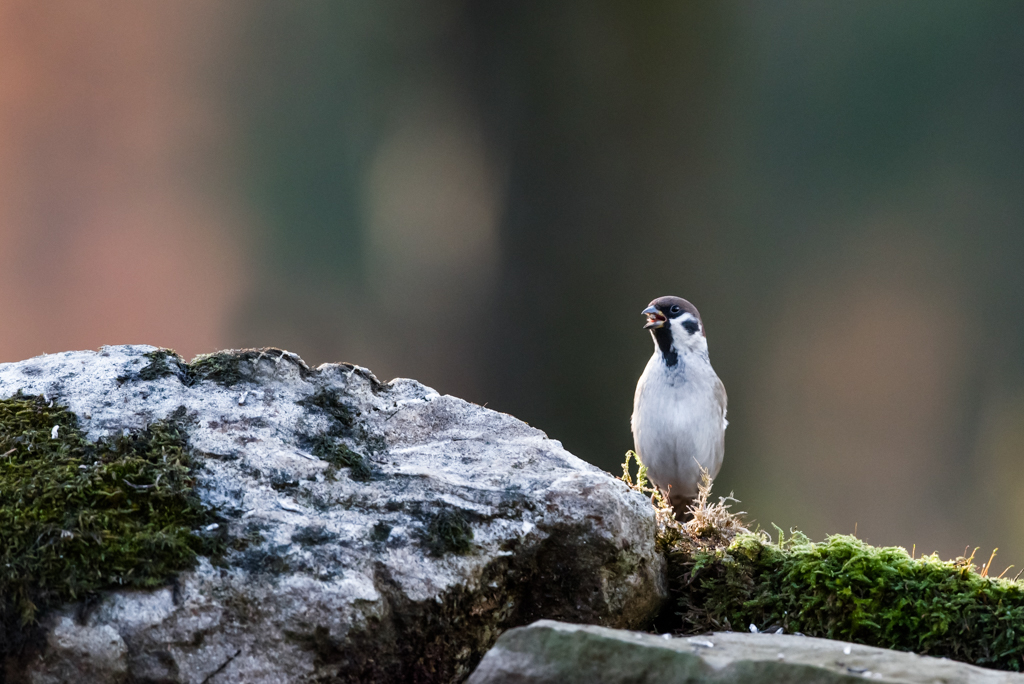 Once stick
The 4th picture shows a well know situation of the two rascals Turbo and Peanut – the sad story of living in an area where there is only one (1) stick in the forest. Peanut is usually always to first one to find it whereas Turbo always is the one that chases her and tries to steal it from her. Many times the situations can be deescalated with treats or words but sometimes the situation escalates and the two comedians attack each other. Bulldogs can play quite ruffly with each other and for someone not used to it it may looks like they in any second will tear themselves in parts – which of course is not true. Bullies are extremely sensitive and emotional beings that could never harm anything or anyone.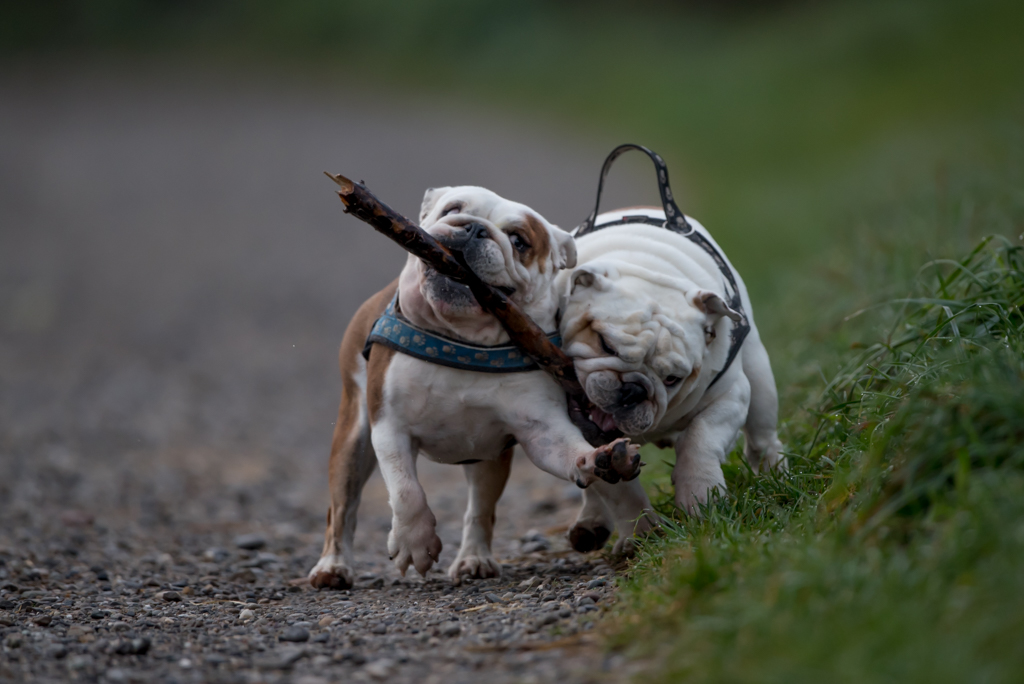 Last round
The last picture shows the last round on Sunday evening with the doggies. They just need a quick moment to do their business and I usually leave the lights on (of the car) so they don't need to walk in the darkness. By doing so, Peanut was walking straight into the light which left her with a very nice back light silhouette.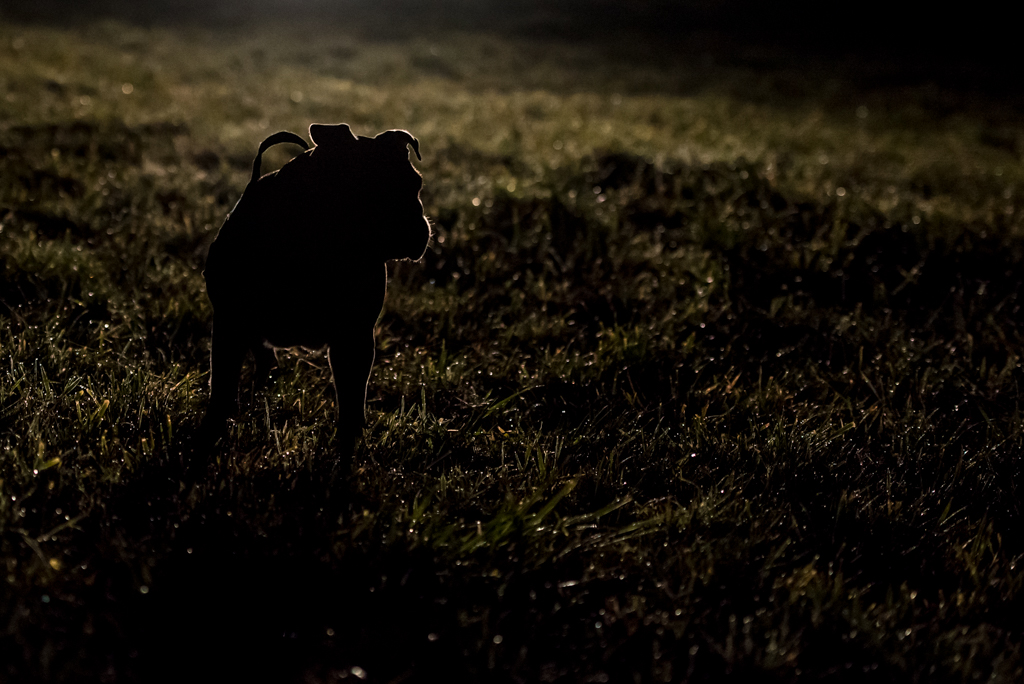 Let me know your thoughts
I hope this article was helpful for you. If there is anything you are looking for, please let me know and I try to find examples to discuss.
Love an protect wildlife
Animals are awesome and need our protection. Don't hurt, kill or eat animals. Its wrong.