fabulous five
Every Monday I am posting five shots from the prior week that I like a lot – the fabulous five. The last week was a little weird when it comes down to weather and no snow yet. Saturday was extremely windy and grey in grey wheres Sunday had heavy rain predicted – that did seem to be fully true. Rain, fog and sunshine seem to have a little competition and finally rain won. However, there where quite a few hours where I could do some photography work. I saw many great spotted woodpeckers, lots of red kites and common buzzards and (mainly on Sunday) lots of howering common kestrel. I would assume that the windy conditions motivated the little hunters to go and look for prey. On Saturday I had a life bird – a red crossbill (Loxia curvirostra). Unfortunately, as already mentioned above, they weather was not very good and so did turn out the pictures. For next week there is snow predicted but I keep saying that every week so lets see what "Frau Holle" has in her mind. As every week a little footprint of los niños (Turo and Peanut).

Hide and seek
The first picture shows a great spotted woodpecker (Dendrocopos major) – well at least its belly. I saw so many of these guys on Saturday and Sunday and took a lot of woodpecker pictures. Having said that, I always look for something special and kind of like this pictures as the little woody is trying to ignore me. They are usually very spooky but this guy worked on the branches for quite some time always checking on me. I wish I would see more green or black woodpeckers but I am always very happy with great spotted as well.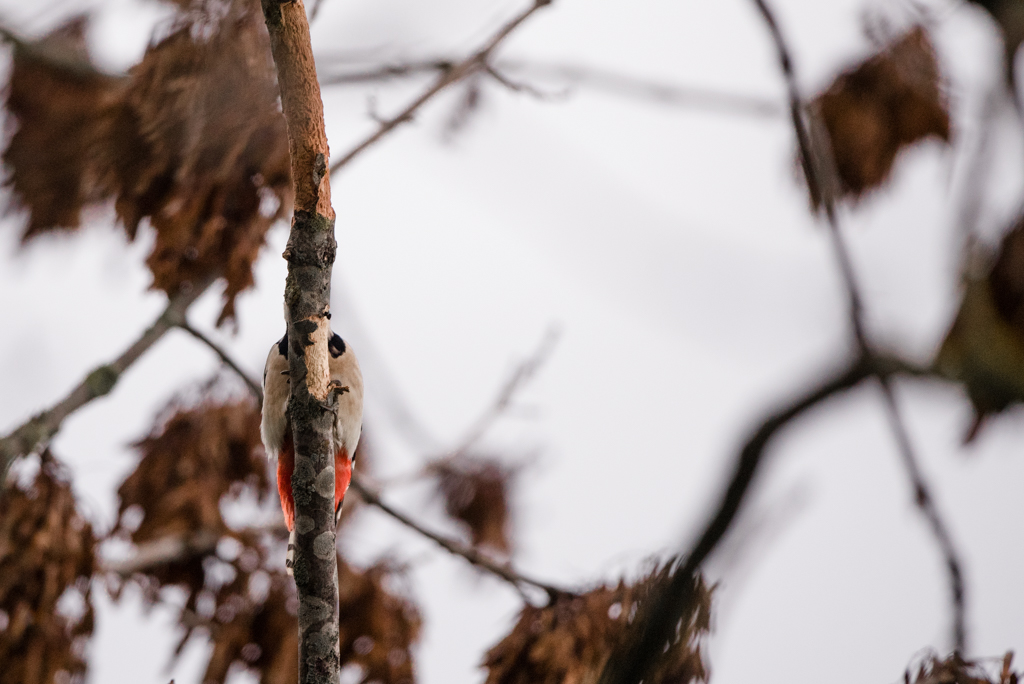 Goodbye
The second picture shows a common kestrel (Falco tinnunculus). I love these fast little raptors and this one liked me as well as it seems. He was howering on and off and let me photograph him for quite some time. He stroke a couple of times but never was successful so I think he changed the hunting area and when leaving me, he quickly looked at me, saying goodbye. I took a few shots and sent him my best wishes for the upcoming winter. I am sure however, that we will see each other again.
Türbs
The third picture shows Turbo with a stick twice as large as he is. The stick can't keep up with the one form week 44 but still is quite a biggie. Turbo is a very small English bulldog compared to other ones but extremely agile and very strong. However, as being so small I think he has a little Napoleonic complex.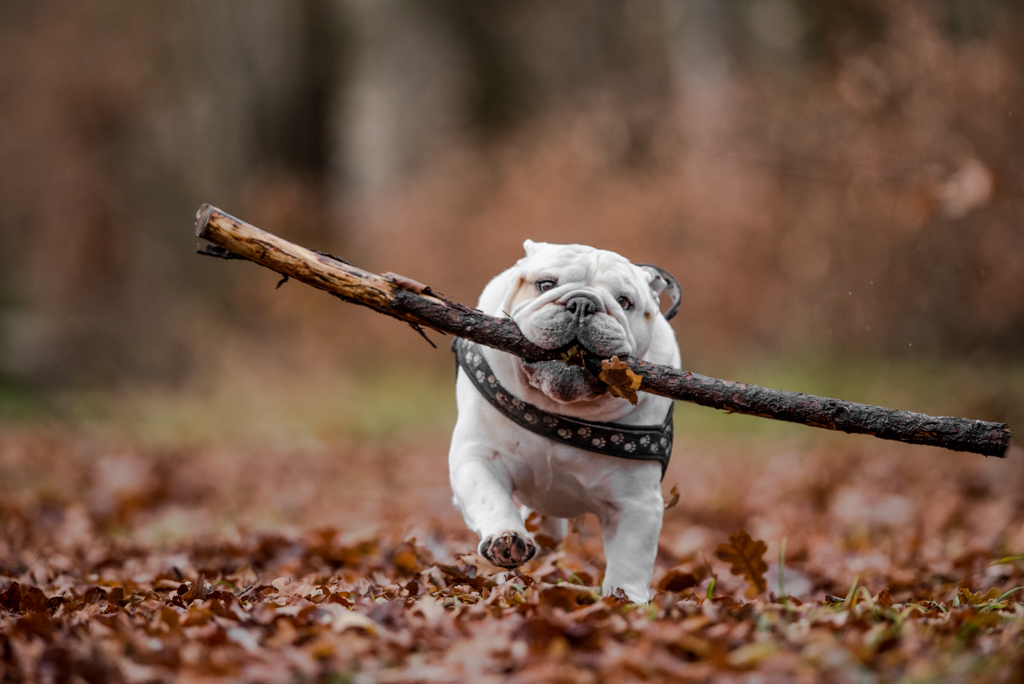 Once stick
The 4th picture shows a well know situation of the two rascals Turbo and Peanut – the sad story of living in an area where there is only one (1) stick in the forest. This is how i named last weeks picture and yet another situation around the same topic – the story of the one stick in the forest. They both look a little tired as we were walking for about an hour and they chased each other non stop. Guess who had a great nap time after that. You may notice that I use the 500mm lens also for the dogs. That's not the plan but rather the outcome of walking with the heavy lends through the forest not finding any birds 🙂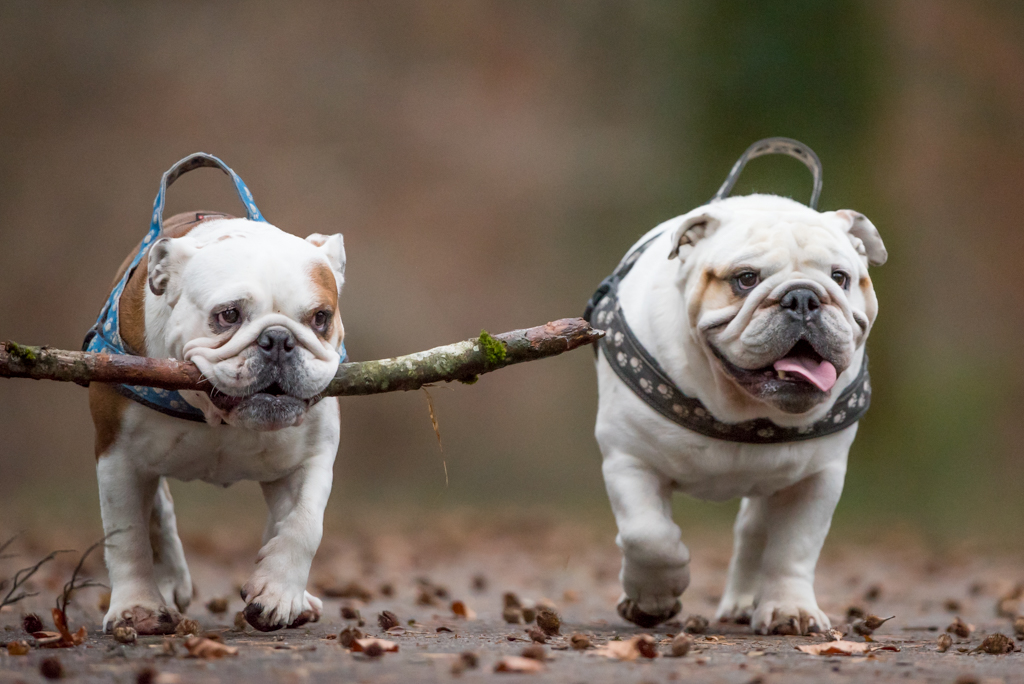 Life bird
The last picture shows a red crossbill (Loxia curvirostra). I know that this is not a great picture by any means but its a life bird for me and therefore it made it to the fabfive. Life birds are birds that I have seen for the first time. I noticed a red bird on the branch and believed that this might be a some sort of finch, as I was quite far away. So I took a picture and zoomed on the display and realized that I am looking at finch but at one I have never seen before – a red crossbill (crossbills belong to the Fringillidae family). The light conditions were very bad and the bird was perching on a branch without having any fancy background – but as this is a lifer I wanted to photograph the little guy. He just waited for me to take a few shots and then he (its a male) went off and I didn't find him again.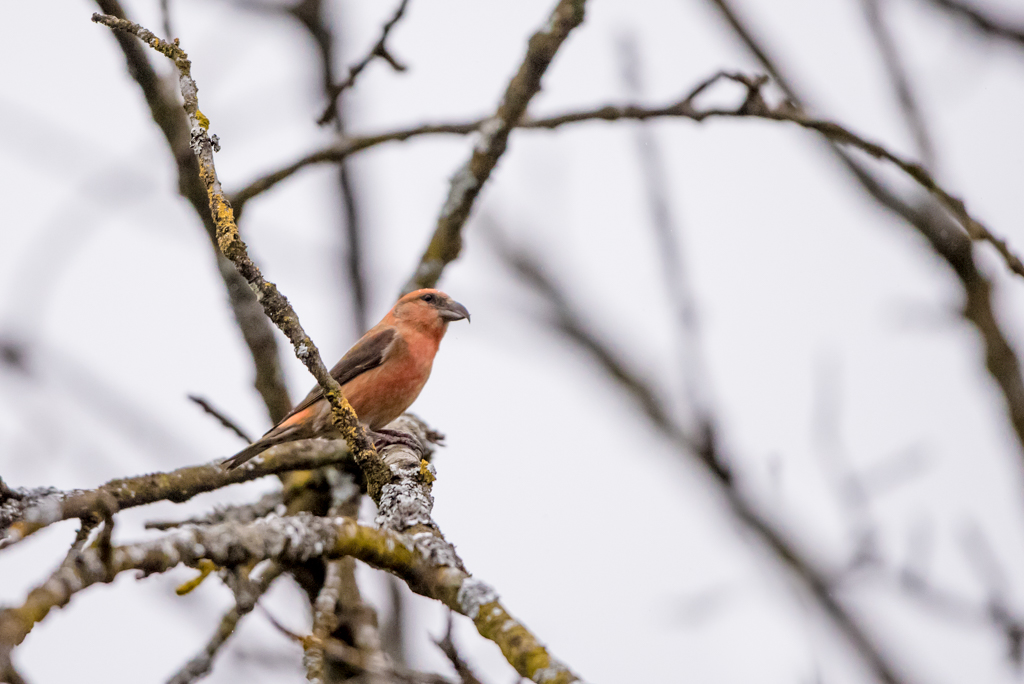 Let me know your thoughts
I hope this article was helpful for you. If there is anything you are looking for, please let me know and I try to find examples to discuss.
Love an protect wildlife
Animals are awesome and need our protection. Don't hurt, kill or eat animals. Its wrong.