Out of focus
My wife and I have been walking the dogs in our new favorite park. I had my camera with me and took some shots of the inhabitants of the park. A few of those shots went out of focus and I would like to share some thoughts about them. This might help you to understand why some of your shots go out of focus every now and then as well.
Table of content
What does out of focus mean?
Out of focus means that an image is out of focus – aha. We need to be a bit precise here however, as something always will be in focus but maybe not what one wants. So out of focus happens, if the main subject of the image is missed and turns out blurry. In the below examples I have been using the "show focus points plugin" for analytical reasons. The plugin is great and available free of charge.
Is out of focus bad?
I love to shoot images that are blurry or out of focus. However only when I compose them as such. Out of focus as well as (motion) blur can be an extremely creative element to create awesome photographs. An image not necessarily needs to be clean and sharp to be great. Look at the following photograph. You notice that is is both out of focus and very nice (at least I think so).
The bad new is, that there are images that however you look at it are just "wrong" when out of focus.
Out of focus can be your best friend but also be an evil little devil.
Reasons of out of focus
There might be many reasons why a picture is out of focus. In today's walk in the park the main reason definitely was the photographer – in IT one would say issue between chair and keyboard.
Missed focus
The most obvious reason why an image is out of focus is because one has not properly focused. The following image can be interpret as "autumn meadow photobombed by a squirrel" but rather likely as just a terrible attempt to catch a jumping squirrel. You can see that the focus has been locked behind the squirrel moving the grassy background in focus and leaving the squirrel out of focus. These swift animals are great to train focusing skills as they usually are pretty tolerant towards human encounters and one get many opportunities. There is not much of an advice that I can give to make the below shot better next time other than practice, practice, practice.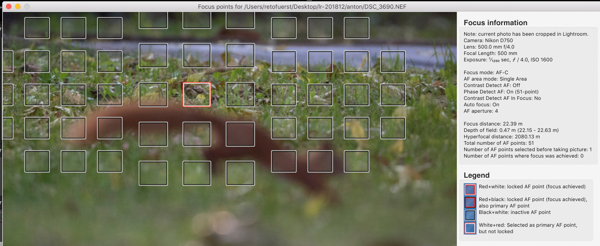 Depth of field
The image of a house sparrow mainly suffers from poor focusing. Perching birds should always be focused properly and I should have locked the focus on the birds head but not the body. The image however could have been saved, if I would have stopped down a bit. If you look at the focus information (highlighted in red) you can see that the focus distance is 5.01m and the depth of field (at f/5.6) around 0.03m. By stopping down I may would have won another 0.01m in dof maybe leaving the birds head more in focus. As said, with proper focus there would have been no issue in the first place.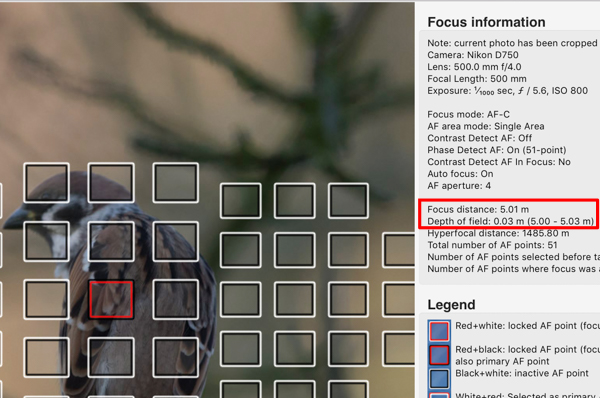 Depth of field is dependent on your camera, the lens focal length, the aperture used as well as the distance to the main subject. Make yourself familiar with the theory to be able to estimate the depth of field, the far and the near distance as this helps to decide on choosing f-stops. There are plenty of apps available.
Low shutter speed (issue supporting the lens)
The below image of a down-looking squirrel doesn't look that bad at first sight. In fact I like the image a lot. However, when zooming in a bit, one can see that the eyes are not as clear as they should be.
The focus was locked properly on the head of the squirrel and still the image lacks of quality. The question we have to ask here is why this happened. We shouldn't consider this as out of focus but rather as (motion) blur. I put the motion in brackets as usually motion blur is when the subject is moving whereas in this case the squirrel was not doing anything than just posing. By looking at the settings you will realize, that I made a mistake in respect of the shutter speed. I have been shooting the 500mm handheld with 1/250s. That was a smart move – congrats. Not even Arnold Schwarzenegger could hold that lens still at this speed. ISO was at 640 so I easily could have pushed it up to 2000 to free up some necessary shutter speed. Considering the low shutter speed and the size and weight of the 500mm lens I must say that the image turned out quite nice still. This is because I was shooting pretty straight up and with this was able to support the lens well. If I would have shot parallel to the ground I never would have been able to give such a good stabilization to the lens.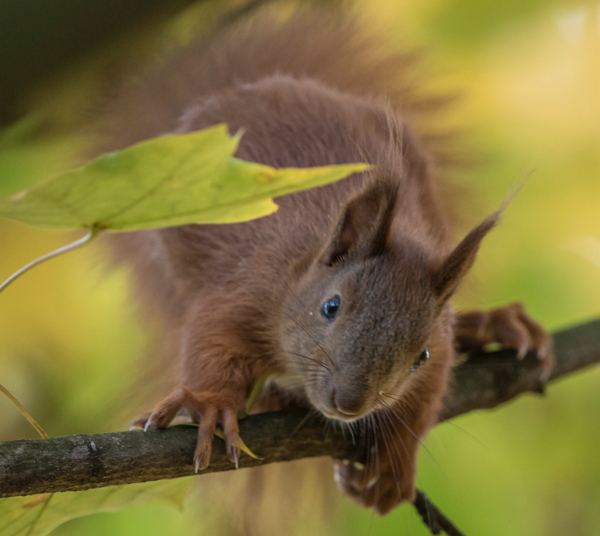 Different lenses require a different minimum shutter speed not to leave motion blur on pictures. This depends mainly on setting (tripod, handheld), lens quality, focal length and photographer.
Low shutter speed (target to fast)
In the above mentioned example we understood that a certain shutter speed is required to support a lens properly (regarding a crisp image). In many cases however images turn out blurry because the target is moving to fast. I don't have such an example from today's park walk so I have taken one from the archive. The image of this tree creeper suffers from both out of focus and too low shutter speed. It would have turned out nicer if taken with a higher shutter speed. 1/1000s is way to slow for such a small bird doing aerobics on a branch. To be quite frank, the image lacks completely of background due to poor weather condition and monotonous woodland colors so when I say nice picture I mainly refer to the topic around in and out of focus. It has been taken on the Isle of Mull – how I miss this place.
Moving targets require a different minimum shutter speed mainly depending on their size and speed. E.g. 1/1250s might be fast enough for large and slow moving birds whereas small and agile birds may require double of triple of that speed.
Other reasons
There for sure will be other reasons why pictures are our of focus. A common reason – I don't have a picture as I usually never use this – is grouping of autofocus points. I only can speak for me but I tend to have terrible results and therefore only use single focus point. With this I am the only one deciding where the focus should go. The one exception I have is with birds in flight against "empty" sky. In such situations I sometimes use grouping of AF.
My advise is to go regularly through the archive. When doing so, it's a good thing to analyze camera settings or remembering the situations in which the picture was taken. I sometimes realize that there is a pattern in my out of focus shots like e.g. I tend to shoot to wide open or with a shutter speed just at the edge of what is required for ghe specific scenery. This helps me when going out to pay more attention to those things.
Let me know your thoughts
I hope this article was helpful for you. I would love to hear what you identified as reasons on why your images are out of focus.
If there is anything you are looking for, please let me know and I try to find examples to discuss. Feel free to use the Q&A form to submit questions.
Love an protect wildlife
Animals are awesome and need our protection. Don't hurt, kill or eat animals. It's wrong.