Selling photos on Adobe Stock
If you are a photographer you most likely know about Adobe as you are either using Adobe Lightroom or Adobe Photoshop. Did you know however that you can be selling photos on Adobe Stock? I am using Adobe Stock for about three to four months and I would like to share here some experiences and thoughts with you.
Table of content
What is Adobe stock
Adobe Stock is one of the many stock agencies out there that license media and sells it to clients on behalf of photographers, designers, and artists. One thing I appreciate about Adobe Stock is that images are non-exclusive to Adobe Stock meaning that you can sell your images anywhere else.
How to become an Adobe Stock contributor
Becoming an Adobe Stock contributor is the first step to start selling photos on Adobe Stock. It's a very easy process and you can simply follow this guide.
Upload images
Once you have registered you can start uploading your images. Unlike Shutterstock, you don't need to be accepted as a contributor but images must pass the quality control. Here are a few tips to get your photos approved without issues:
Use high-quality images only
Give a good description of the image
Make sure you use the correct category
Make sure you use good descriptive keywords and since you can add up to 50 keywords use as much as comes to your mind
In case you use images of people you will need a model release (you find a template on Adobe Stock here) but I am not very familiar with this process, to be honest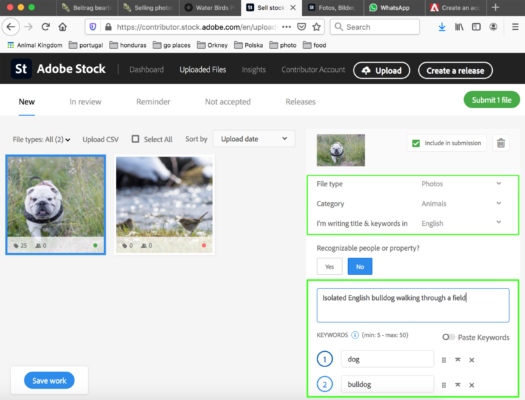 In case you upload multiple images of the same subject you can copy-paste the keywords. To do so, it's best to switch the "paste keywords" switch to the editor.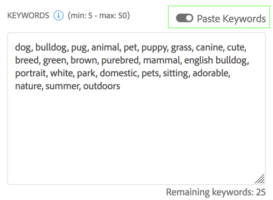 Images in review
Once you have uploaded your images they will appear in the "In review" area and you need to wait by when the Adobe team has reviewed them. As you can see I have two images now waiting. The one of Turbo that I just uploaded for this tutorial and one of a flower that hasn't been released yet. The review process of Adobe Stock is quite slow and can take up to multiple days.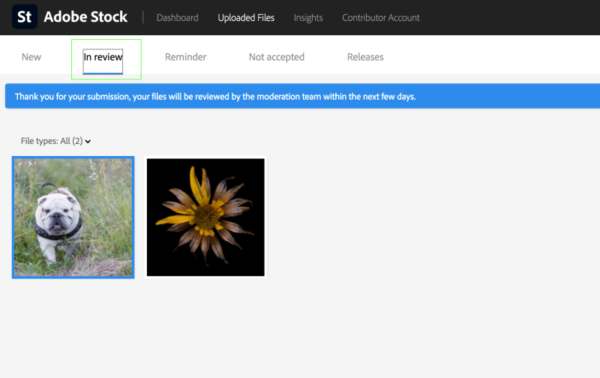 Approved and rejected images
Once your images have been reviewed they either got approved or rejected. Approved images can be found directly under the dashboard.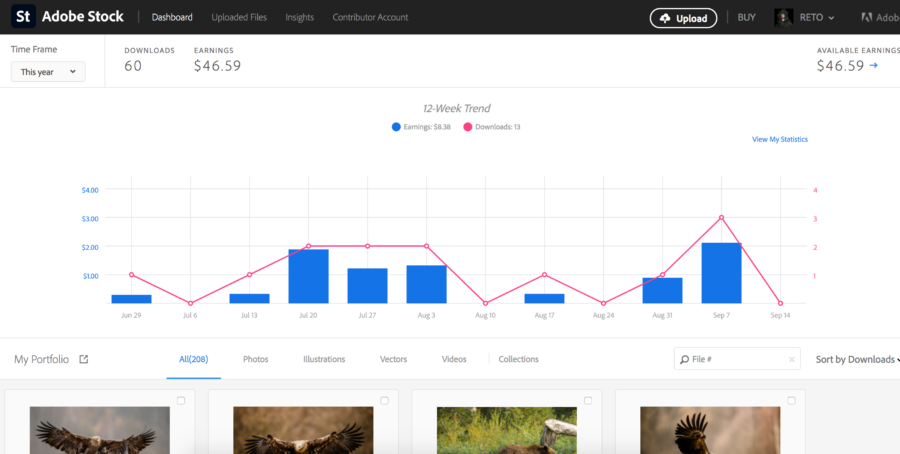 Rejected images can be found in the "Not accepted" tab and you will find a reason for each rejected image. It's a bit weird but one of my best-selling images on other stock websites got rejected on Adobe stock. The isolated carrion crow image has been sold more than 100 times on Shutterstock.
Keep in mind that you always should consider the following when trying to sell photos on stock agencies:
Upload only your best pictures and if you have many similar ones, only pick the best out of it
Quality before quantity
Take keywords serious and plan enough time to come up with very descriptive ones
I have been uploading approx. 400 images so far where 12 out of them have been rejected. As you can see below I desperately tried to upload the crow images but always got rejected.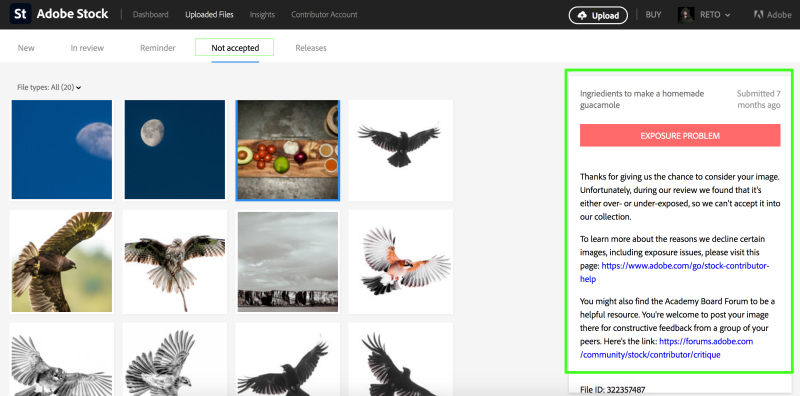 Creating collections
Collections are a great way to group your photographs and you can use them later when you build the free Adobe Stock portfolio. You can simply select any images and add them to either an existing or a new collection.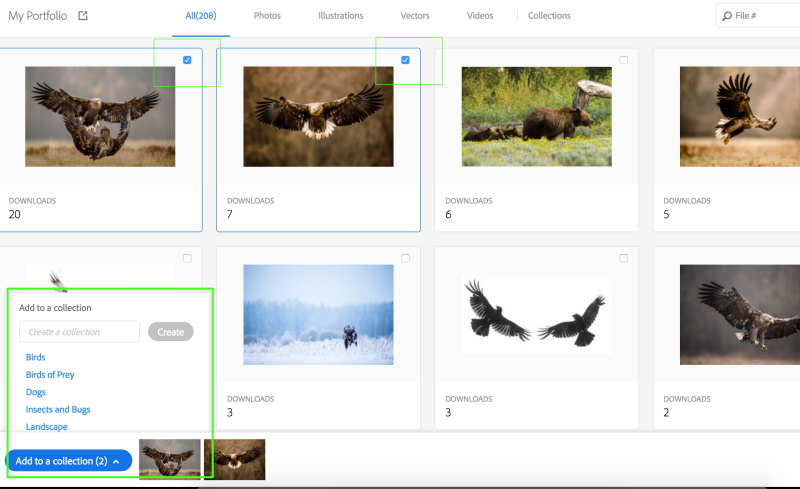 Creating a portfolio
You can create up to 5 free Adobe Stock portfolio websites here.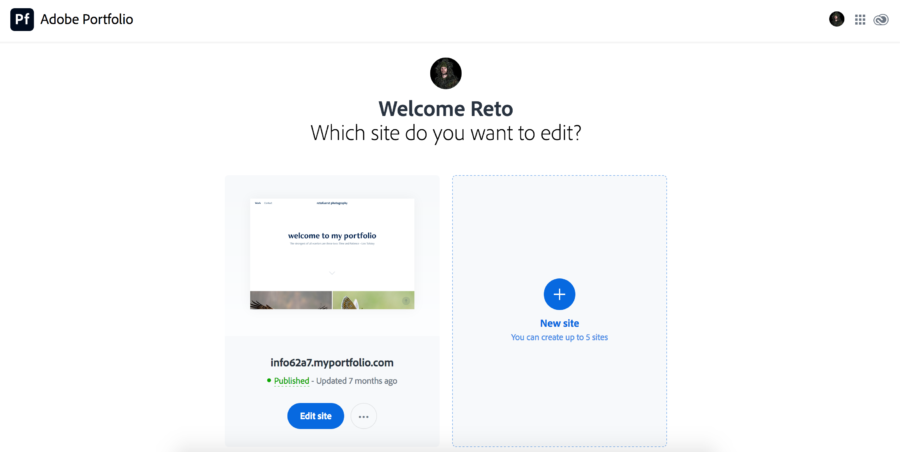 The portfolio editor offers quite a bit of functionality and a good way to start working with it is to create the first page. I have named my first-page "work" and added all the previously created collections to it. It is a great way to showcase your work and send your portfolio link to current or future customers. This is the link to my portfolio.


Analyze your sales
Selling photos on Adobe Stock overall is a bit slow for me compared to Shutterstock where I have daily downloads. Interestingly though I did my first sale on Adobe just a couple of minutes when I uploaded one of my first pictures. That was quite a nice surprise. The dashboard will tell you how many images you have been selling for each day but I find it a bit annoying that one can't see which images have been sold on which day.

One can navigate to more detailed statistics to better analyze the sales though however I still struggle a bit with the overview as I don't find it very user-friendly. From a contributor earnings perspective, I do like Adobe much better than e.g. Shutterstock as earnings are higher. I usually get anything between $ 0.30 and $ 2.00.
You can find here an overview of the contribution earnings Adobe stock will pay
My top 5 selling photos on adobe stock
You might be curious what my 5 top sales are. Here we go: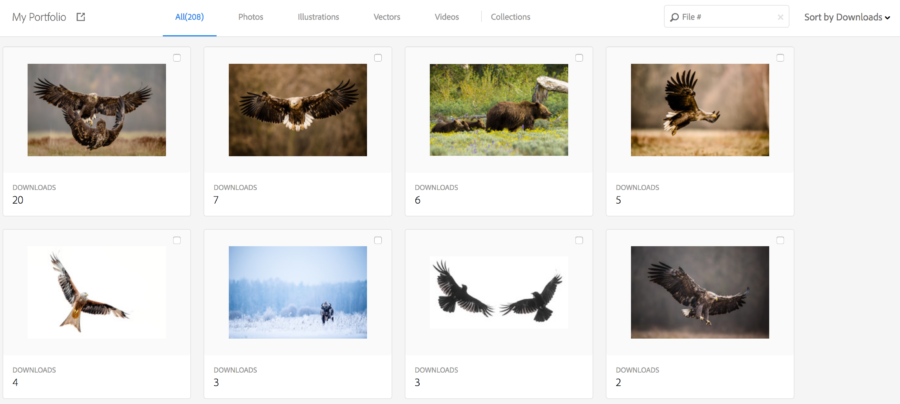 I have added here the direct links to the images:
Total contribution earnings so far
I have managed to sell 60 images in the last couple of months making a total earning of $ 46.59. You may remember that I am still saving on a new camera and I am looking at approx. $ 2k so there is still a way long to go.

Your support is highly appreciated
If you feel like you would like to support my work you can go and download images on adobe stock.
Let me know your thoughts
I hope this article was helpful for you. If there is anything you are looking for, please let me know and I try to find examples to discuss.
Love an protect wildlife
Animals are awesome and need our protection. Don't hurt, kill or eat animals. It's wrong.