Selling photos on shutterstock
My beloved D750 camera is having a current shutter count of approx 105k exposures and according to the specs, the shutter of the D750 will last about 150k clicks before it dies. Read here on how to check your shutter count. I therefore will be in the need of a new body soon and with this looking towards a larger investment. I, therefore, have been thinking to start selling photos on Shutterstock to make some extra money. In this article I will share my experiences with selling photos on Shutterstock I have made in the last three months when first sales have started.
Table of content
What is shutterstock
Shutterstock is one of the many stock agencies out there that license media and sells it to clients on behalf of photographers, designers, and artists. They have just announced a couple of days ago that they have been paying $ 1 billion in earnings to contributors. One thing I appreciate about Shutterstock is that images are non-exclusive to Shutterstock meaning that you can sell your images anywhere else.
How to become a shutterstock contributor
Becoming a Shutterstock contributor is the first step to start selling photos on Shutterstock. It's a very easy process and I have described it for you as follows.
Register with Shutterstock and upload first images
You can register as a contributor with Shutterstock by using the following link:
It's only a few simple steps you need to follow and Shutterstock will then ask you to upload a couple of sample images so they can review your work. Here are a few tips to get approved without issues as a contributor:
Use high-quality images only
Give a good description of the image
Make sure you use both categories
Add location (this is a new feature)
Make sure you use good descriptive keywords and since you can add up to 50 keywords use as much as comes to your mind
You can use the keyword tool that helps to come up with good keywords
In case you use images of people you will need a model release (you find a template on Shutterstock here)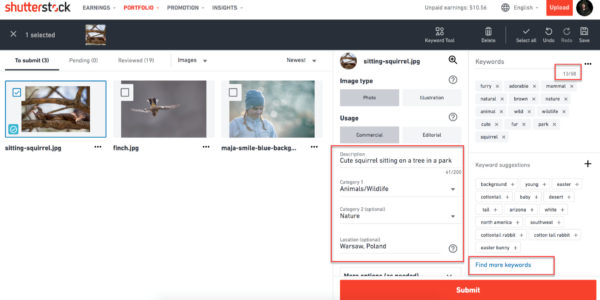 Reviewed images
Once you have uploaded your images they will appear in the reviewed area and you can check if Shutterstock has accepted those or not. As you can see I have recently uploaded two individual images of a red robin whereas the first image has been approved and the second image has been rejected. The reason for rejection is helpful to understand what you need to do better next time. In the below case the image is out of focus and I shouldn't even have uploaded it. So I agree with the reason for rejection. Sometimes I however disagree when images are rejected.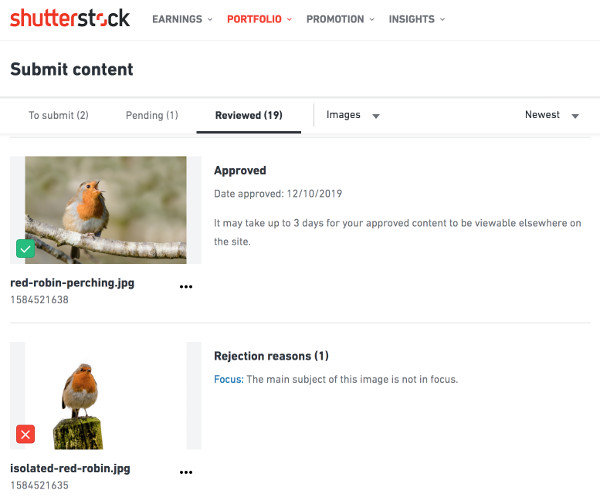 Upload more images
Once you have been approved as a contributor you can upload as many images as you want. Keep in mind that you always should consider the following when trying to sell photos on Shutterstock:
Upload only your best pictures and if you have many similar ones, only pick the best out of it
Quality before quantity
Take keywords serious and plan enough time to come up with very descriptive ones
Check trends and use the monthly Shutterstock guide on the most requested content
I have been uploading 380 images so far wheres 7 out of them have been rejected.
Using the catalog manager
A catalog manager is a great tool where you can organize your images into sets or pick individual images for further updates such as adding more keywords. Another cool feature is that when you have sets created it tells you how much money you made on each set. You can see that up to now I have been selling 13 images from the image set "large birds".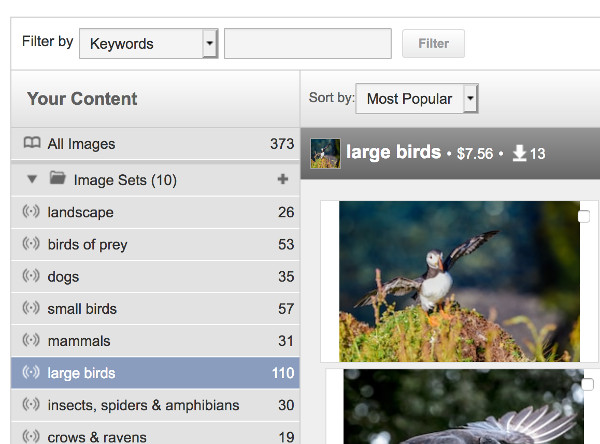 Analyze your sales
It took me a while until I have been start selling photos on Shutterstock. I believe the main reason is, that in the beginning I only have been adding a few vague keywords to my images. However sometime after becoming a contributor the sales have started. My first sale was on the 25th of September 2019 (so just about 3 months back from today) and this was the first sold photo (here's a link to the image in case you would like to buy it as well).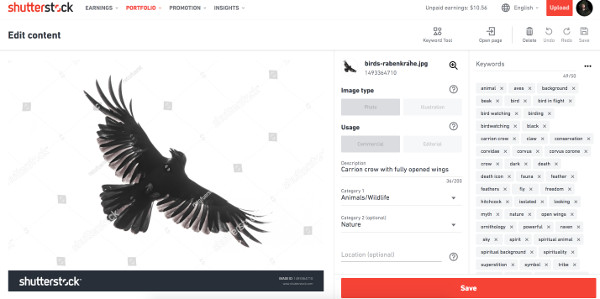 To analyze your sales one can use the top performer's overview that contains all sorts of details such as several downloads, the sum of USD, and keywords by which the image has been found. The overview sorts the images by default (and unfortunately one can't change that) by total earnings in USD. One can't sort by the total number of downloads per image. Having said that it already tells us that you won't be paid always the same amount if you sell an image. The contribution earning paid out by Shutterstock very much depends on the contract the buyer has with Shutterstock. The earning summary overview will give you all the insights you need to understand how much exactly you got paid per image per download. I usually get the following earnings:
$ 0.25 per image sold to a user with a subscription to Shutterstock
$ 1.88 per image sold to a user on demand
You can find here an overview of the contribution earnings Shutterstock will pay
My top 5 selling photos on shutterstock
You might be curious what my top 5 sales are. Here we go: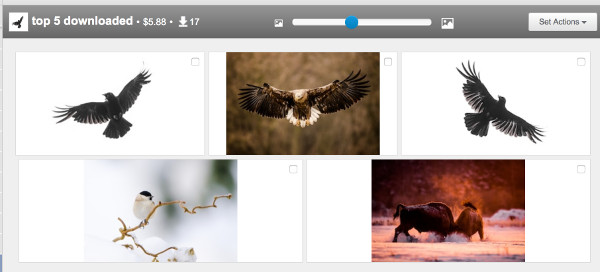 I have added here the direct links to the images:
Total contribution earnings so far
I have managed to sell 25 images in the last three months making a total earning of $ 10.56. If I get paid $ 0.25 per photo sold on Shutterstock and considering that a new camera will cost me around $ 2k I only need to sell another 8'000 photos on Shutterstock. If I am continuing selling photos on Shutterstock with the current stats like approx. 10 photos per month then I only need to wait another 66 years to have the 8'000 photos sold.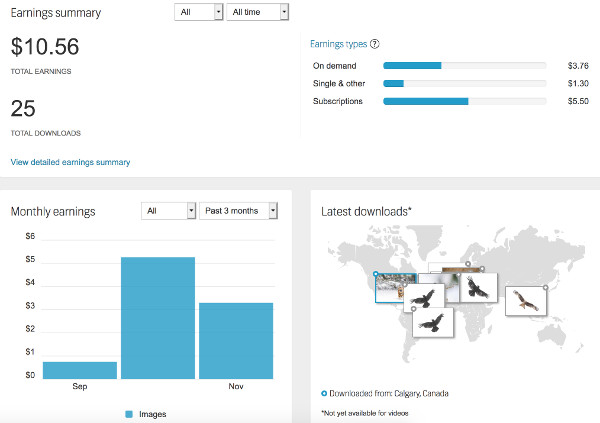 Your support is highly appreciated
If you feel like you would like to support my work you can go and download images on Shutterstock.
Let me know your thoughts
I hope this article was helpful for you. If there is anything you are looking for, please let me know and I try to find examples to discuss. Feel free to use the Q&A form to submit questions.
Love an protect wildlife
Animals are awesome and need our protection. Don't hurt, kill or eat animals. It's wrong.