Woodpecker SYMBOLISM
When I was little I was fascinated by animals but never paid much attention to birds. The love for our feathered friends came along with the love for photography. You may know that I am very much interested in ravens and crows but there is another bird that I very much love and have become attached to. The talk is about the woodpecker. I did some research and I have picked some interesting tales of the various cultures to give an idea of woodpecker symbolism.
If woodpeckers are important to you, regardless of religious or spiritual, or symbolic beliefs, I would love to hear back from you.
Table of content
The Bird
Woodpeckers belong to the family Picidae. The approximately 180 different species of woodpeckers can be found almost worldwide. It seems however that they don't exist in Australia, Madagascar, New Zealand, or Antarctica. In Central Eastern Europe the following woodpecker species are present. I have added the Eurasian wryneck (Jynx jynx) to the list as well. The genus Jynx contains only two species and it is part of the same family as the woodpeckers belong to.
Woodpecker symbolism in mythologies
I wasn't sure at first if I should start researching woodpecker symbolism as I had a feeling that woodpeckers didn't play a major role in ancient mythologies. Seems like I was pretty wrong about that.
Norse mythology
In Norse mythology, woodpeckers are associated with Thor god of thunder. Woodpeckers hammer on trees, create tree holes and make a lot of noise by doing so. Some species like the green woodpecker drill holes in the ground in the search of ants and other insects. The hammering of wood is affiliated with Thor's hammer "Mjolnir", whereas the noise the woodpecker creates can be associated with the noise of the thunder. The tree holes as well as the drilled holes in the ground shows some similarities with the holes lightning makes if they strike. I also read that the redheaded and bearded Thor got the color from the red cap of the woodpecker. Please note that not all woodpeckers have a red cap but usually only the male birds (for some species both male and female have a red cap though). If you look close enough at Thor's hammer you may notice a small pointed end on top of it which may be seen as a similarity to the bird's beaks. This is however maybe a bit a vague theory.
Roman mythology
In Roman mythology, a woodpecker named Picus is sacred to the god Mars. Picus was worshiped and developed into an agricultural deity. The bird mainly has been associated with the fertilization of the soil with manure. In bird taxonomy (bird nerd alert) Picus describes a genus of the woodpecker family that contains 13 species of which only two species occur in Central Eastern Europe. It's the green woodpecker (Picus viridis) and the grey-headed woodpecker (Picus canus). This would make sense as green and grey-headed woodpeckers mainly hunt on the ground and "plow" the grounds. I dug a bit deeper and found a story where the Magician Circe tried to seduce one of the kings of the archaic Latium named Picus (or Pico) who refused her attempt. She has gotten so angry that she turned Picus into a green woodpecker.
Celtic mythology
The Celts believed that the woodpecker's screech is a sign of rain. Kathy Jones's book "Priests of Avalon. Priests of the Goddess" talks about Cliton one of the Nine Morgens, the nine sisters of Avalon. The green woodpecker is Cliton's (the Morgen of the fire) bird. He knocks messages on trees and their echo is sent through the hedges.
Native American Indian mythology
In many Native American Indian tribes, woodpeckers are associated with friendship and happiness. I read a wonderful story about a friendship between a coyote and a red-headed woodpecker. The story goes that a coyote gets invited by a red-headed woodpecker. The coyote asks the woodpecker if his head is on fire and if he is not afraid to burn down his house. The woodpecker smiles and says that he was born like this always wearing a light on top of his head. When the coyote returns the favor and invites the woodpecker he wears burning straws on his head to imitate and make fun of the woodpecker. The woodpecker cries to the coyote that he will burn his head and should take it off immediately. The coyote smiles and says that he was born like this always wearing a light on top of his head. However, then the coyote's fur starts burning and the poor animal runs out towards the river to get relieved from its pain. After that, the coyote didn't imitate his friends anymore.
Native American Indian zodiac symbol
If you were born in the northern hemisphere between June 21st and July 21th or in the southern hemisphere between December 22nd and January 19th then your birth totem is the woodpecker. People having this birth totem are family caretakers and kindhearted. Their lucky color is roseate, their stone is rose quartz and their element is water.
Woodpecker symbolism in spirituality and shamanism
The woodpecker symbolism is telling us to pay attention to new opportunities that may arrive or knock on our doors (symbolically like the woodpecker knocks on wood). I was reading that if the woodpecker spirit animal is visiting you, you need to protect your wisdom and your creativity from threats. So there seems to be some bad affiliation with woodpecker appearances.
Woodpecker symbolism in the bible
I didn't find anywhere in the Bible a woodpecker however I read an article that God uses woodpecker as a testimony of His existence and His might. Woodpeckers avoid brain damage while pecking wood by a very sophisticated energy-absorbing mechanism in their skull. Here's a great article that explains the entire mechanism is very detailed. This unique mechanism that can't be found in any other bird species seems to be seen as proof that only God can create it. I find this a bit of a vague interpretation but of course, I am not an expert in Bible study.
Woodpecker symbolism in fairy tales, fables, poems and literature
Woodpeckers are used in many fairy tales, fables, poems and literature all around the world. I have picked out a few that I like a lot. I encourage you to read those and therefore I won't spoil you with too much information.
Gertrude's Bird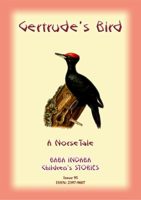 Gertrude's Bird is a Norwegian fairy tale where Jesus and St. Peter are deciding to take a rest in a house owned by a red-haired lady called Gertrude. Jesus is asking for food and Gertrude isn't too happy about sharing food with strangers. So she takes only very little dough to bake some lefse but the dough increases in size. She doesn't want to give too much so she takes an even smaller dough but again it increases heavily in size. It happens a couple of more times and angry she replies to Jesus that she can't serve them anything. Jesus curses her and she becomes a woodpecker. Gertrude in form of the woodpecker flies up the chimney and turns black passing through the smoke.
The Story of God and the Inquisitive Woman
The Romanian story of God and the inquisitive woman is about an old woman that puts her nose in everyone's business. When God is seeing this he puts all sorts of insects in a big bag and asks her to carry it home without looking into the bag. She of course agrees to the lord's command and walks away with the bag. Not for long however as she can't resist and after a short while walking she sits on a meadow and opens the bag. All the beetles, ants, bugs, and other insects jump out of the bag and run away. She tries to gather them but she fails. God's voice all of a sudden appears and asks the inquisitive woman where all the little animals are he earlier has put into the bag. He then turns her into a woodpecker and tells her that she will now spend her life picking up all those insects until the sack is full again, and only then she can become a human being again.
Estonian woodpecker story
In many cultures, the woodpecker is a sign of rain. An Estonian woodpecker story (unfortunately I couldn't find any further sources for this) tries to explain that. It goes that when God created the earth he commands all birds to drill holes in the ground so that rivers and lakes can arise. The only bird that doesn't obey is the woodpecker. God gets angry and tells the woodpecker that since he refused to peck the earth he from now on only should peck on wood. In addition, he forbids him to drink water from the lakes and streams he refused to help create and therefore only can drink rainwater.
French rain bird story
Similar to the above Estonian woodpecker story there can be found many other stories where the (green) woodpecker is called the rainbird. In France, the green woodpecker is sometimes called "oiseau de plume" as he can be seen perching on the ground upwards looking and making its very unique calls that (with some imagination) are similar to the word "pluie" (French for rain).
Polish woodpecker story
There is a story in Poland that tries to explain the woodpecker's red cap. The story goes that God and the Devil both plow their fields. God uses a woodpecker and the devil uses a horse. The devil is much more effective with the horse and so God secretly borrows out the horse for one night and plows his entire field. The next morning the Devil believes that it was all the work of the woodpecker and asks good for a swap between the two. The Devil soon enough finds out that the woodpecker is unable to plow the field and he realizes that he has been tricked by the Almighty. He gets so angry that he hits the woodpecker's head and adds a wound to it.
Indonesian woodpecker story
An Indonesian woodpecker story explains the origin of the woodpecker. It goes that a carpenter in a black dress with a red hat builds the most beautiful wooden houses and boats. Since he is so busy constantly working for others, he never has time to build anything for himself. One day two men are passing and making fun of the diligent man. They accuse him to be the biggest fool by making wonderful houses and boats but living in a small cabin. The carpenter runs ashamed into the forest and asks his forefather to relieve him of his destiny. He falls into a long sleep and when he awakes he is turned into a black woodpecker with a red cap. As in his human life, he still keeps hammering holes into trees for other birds. Here I may need to give a little input as woodpeckers swap their hole every year and with this create houses for many other bird species.
Woody Woodpecker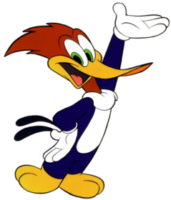 There's another famous woodpecker called Woody. Woody Woodpecker was created in 1940 by Walter Lantz and Ben Hardaway. I remember him well and loved watching him as a child. I was reading that the idea on Woody was born when Lantz was on honeymoon with his wife. They stayed at a cabin and a woodpecker was knocking constantly to their roof. When it started raining they realized that the bird has drilled holes in the roof and water enter into the cabin. Lantz wanted to shoot the bird but the wife suggested creating a cartoon about the nasty little bird. And so Woody Woodpecker was born.
My woodpecker encounters
I have been lucky enough to meet quite some woodpecker species but wasn't able to always photograph all of them. I am very excited when I meet an animal of a species I have never seen before. When my wife and I got married a great spotted woodpecker visited us at the place where we had dinner. It's the great spotted woodpecker that I probably see the most however recently almost every day a green woodpecker is looking for ants in our garden. Below I have added some woodpecker shots.
Sources
https://www.iucnredlist.org
https://en.wikipedia.org/wiki/Woodpecker
https://historyofvikings.com/mjolnir-theft/
https://hearthmoonrising.com/tag/woodpeckers/
https://www.romeandart.eu/en/art-pico-circe.html
http://www.native-languages.org/legends-woodpecker.htm
https://www.ncbi.nlm.nih.gov/pmc/articles/PMC5063634/
https://www.spirit-animals.com/woodpecker-symbolism/
https://trustedpsychicmediums.com/spirit-animals/woodpecker-spirit-animal/
https://www.gutenberg.org/files/43059/43059-h/43059-h.htm
https://whatismyspiritanimal.com/native-american-zodiac-astrology/woodpecker-totem/
http://www.astrologycircle.com/blog/woodpecker-native-american-astrology/
http://www.welsh-mythsandlegends.walesdirectory.co.uk/Birds_and_Beasts/The_Woodpecker.html
https://en.wikipedia.org/wiki/Woody_Woodpecker
Love an protect wildlife
Animals are awesome and need our protection. Don't hurt, kill or eat animals.